A hen party is certainly one of the most exciting things to look forward to after getting engaged. And why not, this will be your final chance to live life carefree and cheerfully with your besties like a single. When you decide to throw a hens party, the first thing is to decide the venue.
And what could be a better spot than sun-soaked Cyprus to have a weekend full of crazy moments that you will cherish for the rest of your life? With its beautiful beaches, ultimate weather and ample of activities, the city of Paphos in Cyprus is one of the best places for your hen party.
Reasons to Party in the city of Paphos
This birth-place of Aphrodite, the Goddess of Love is the 4th most popular destination to visit in the world. From it's Mediterranean good looks to all season beaches, an inviting culture, tempting cuisine, ancient history and buzzing nightlife, this European city offers a complete package for a memorable holiday like a pre-wedding party.
As you plan your Hen party, your friends and you have a lot to experience and enjoy. You can visit the Baths of Aphrodite in the Akamas Peninsula to sense some romance. According to Greek mythology, here Aphrodite met her lover Adonis.
Luxury sailing on the Mediterranean Sea is another way to make your day wonderful. You will love basking in the sun with a drink in hand. A dip in the blue waters of the vast sea will also be an unforgettable experience.
If you have enough of soft and serene nature experience, it is time to put yourselves in the sporty gear with quad biking safari. Believe us, your ladies will love it.
The nightlife in Cyprus is equally enthralling. If you are in Paphos, you won't run out of bar options as a whole street in the city is dedicated to buzzing bars. And as the sun sets, the fun at night starts. However, for a private hen party in Paphos the best idea is to book a private villa with all the luxury facilities.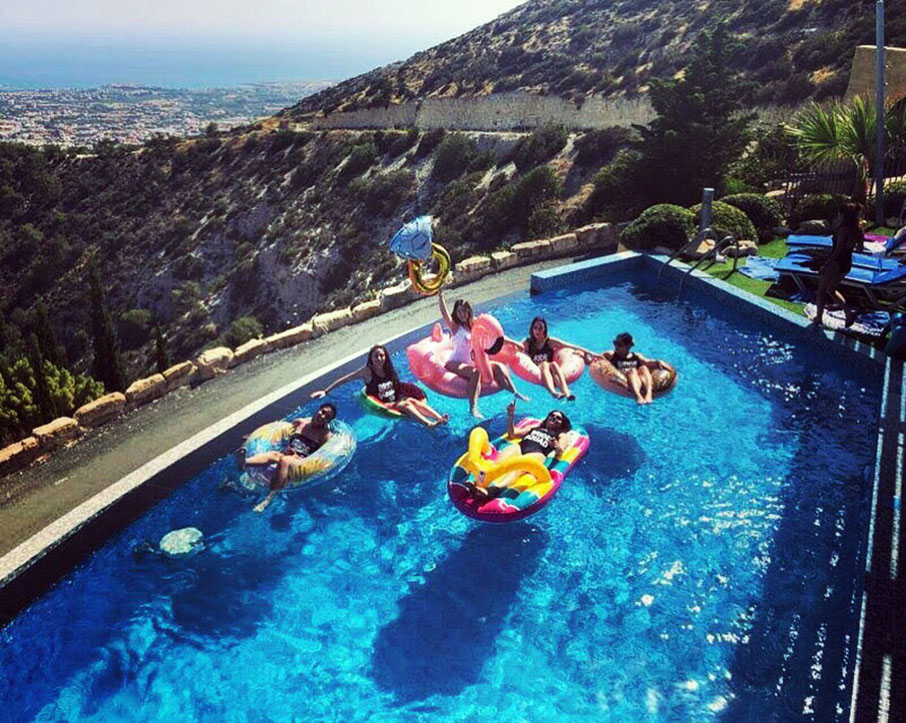 For instance, when you book villa Panorama or Oceania, you get complete privacy with the first-in-class luxury facilities and above all a perfect no noise zone. You can party all night without bothering about the neighbors because the villas are located on the hilltop.
Moreover, they have swimming pools, hot tub Jacuzzi, open BBQ and a lot of other things that can double up the fun. The Villa team has a good hands-on experience of organizing amazing and hilarious hen parties that includes everything from welcome drinks and DJ to sexy accessories, dancers with sexy entertainment games, personalize t-shirts and a lot more.
A Little More About The Villas
Both Villa Panorama and Oceania are located on the hilltop in Paphos. That makes a tranquil background for some fun and memorable photos. You can have a hen party at infinity pool with some fun hen party ideas and accessories or you can decorate the Oceania villa for a perfect girl's night. The villas are spacious and luxurious. While the interiors are urban, the outdoor space with ample of spots like the swimming pool, the wooden deck and open BBQ left you amazed.
Since the wedding planner and the team have immense experience with lots of creativity, you can rest assured for activity breaks at Panorama and Oceania villas. If you wonder how a hen weekend at Paphos would be, we have a few photos from the real party occurred at the villas.
So before you walk down the aisle, visit the villa Panorama or Oceania in Paphos, Cyprus to celebrate the last few days of your bachelorette.
Comments
comments