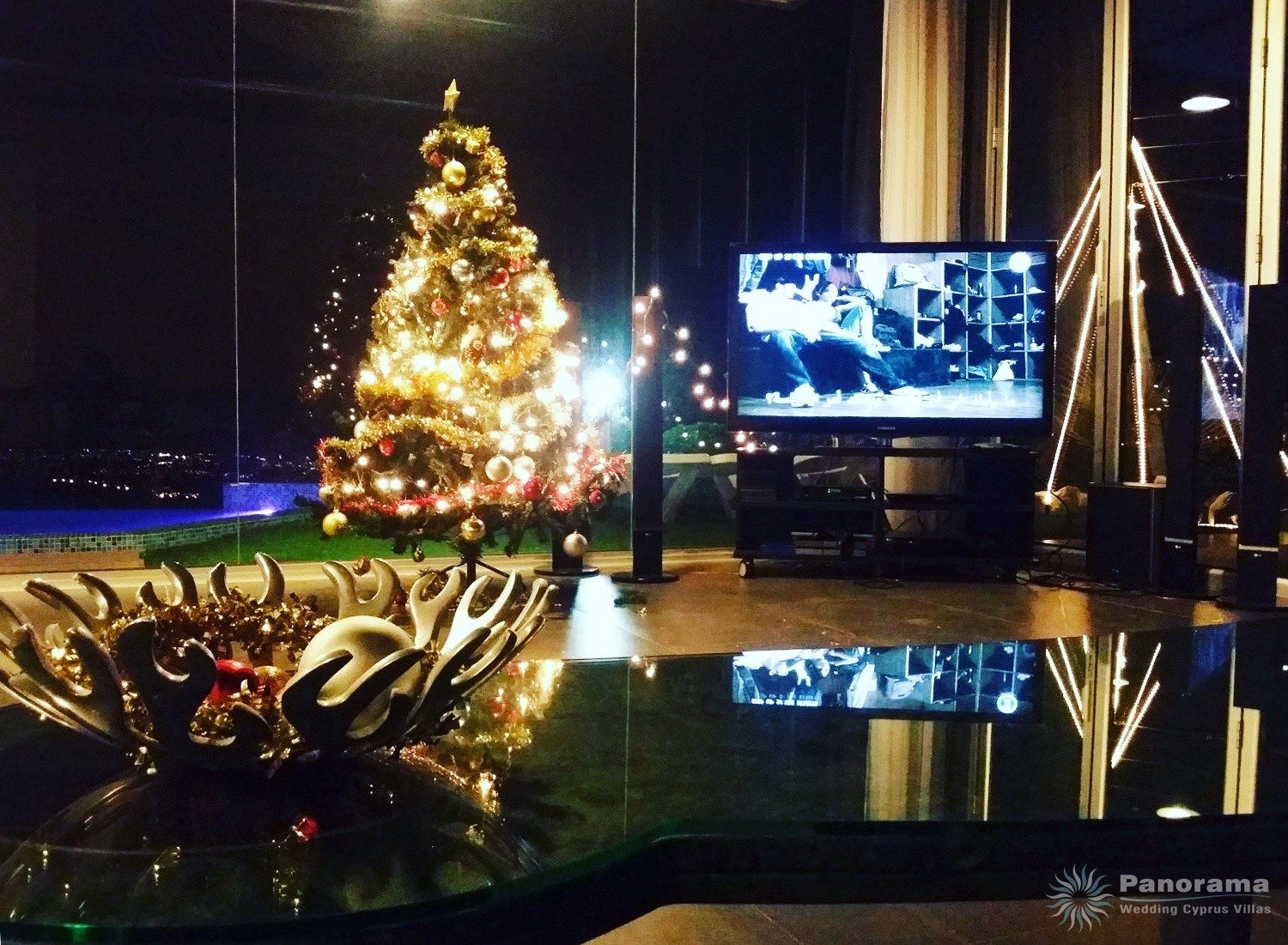 The coziness of your home and the bond of family and friends is maybe the most important part of Christmas. Panorama & Oceania Villas aim to upgrade your winter holiday experience over the Christmas period with everything from luxury facilities, to in-house catering during your accommodation. Have a cozy and romantic evening with a bottle of wine or a hot chocolate at the comfort of Panorama or Oceania couch, with selective music for background and with the stunning views of the Mediterranean Sea revealed. Celebrate Christmas break in style, at Panorama & Oceania luxury Villas and enjoy their comforts making yourself feel wrapped in the spirit of the season.
Enjoy a movie night at the coziness of Panorama's or Oceania's luxury living rooms, at the comfort of the large couches with a selected DVD movie and a proper bottle of wine. We decorated the space in a Christmas spirit for you, so the only thing that you will have to do is, pick up the best suitable wine for your taste, enhance the mood with cuddles and enjoy the Christmas magic with friends, family or your other half, in front of the spectacular views of Paphos.
A couch, a movie, a bottle of wine and the lights of the Christmas tree in front of a magic scenery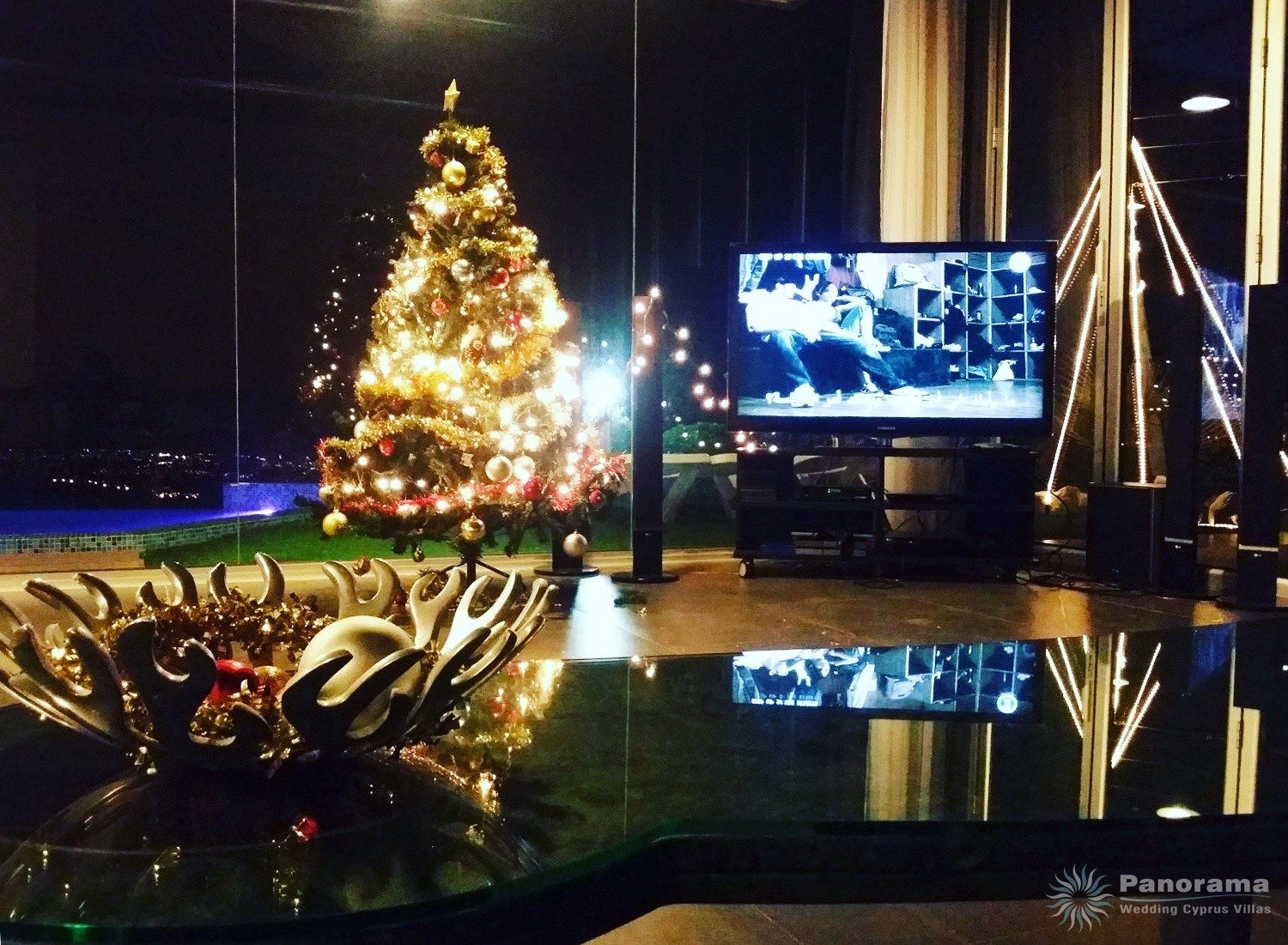 Rich breakfast, Gourmet lunch or Romantic dinner on Christmas Day and New Year's Eve with in-house catering
Book our exclusive in-house catering team on Christmas Day or New Year's Eve or even on a daily basis during your Christmas holidays. When pairing good food with luxury accommodation, the goal of amazing Christmas holidays tends to be more than solely in the comfort of your accommodation, complimenting an entire experience. Rich breakfast, delicious meals and a friendly staff will make your Christmas holidays a truly memorable experience.

Enjoy Christmas Winter holidays – Have a luxury escape
Settle in, avoid the crowded places and enjoy the magic of Christmas by relaxing in the privacy and comfort of your spacious accommodation at Panorama or Oceania Villa with your beloved ones. Either is a cup of tea, a hot mug of aromatic coffee or a bottle of selected wine, savor it in any of the cozy areas of the villas, relishing the spectacular views of Paphos; a luxury escape
Rainy days or sunny days?
If it's cold and a bit depressing in your country, be creative and choose to spend your Christmas holidays at the city of Paphos. Due to the Mediterranean climate of the island, you can still enjoy the warmth of the winter sun by combing your holidays with a luxury accommodation at Panorama & Oceania Villas; a fantastic winter sun destination. See the wonderful sunrise on the first day of the year as it comes over Paphos Bay and enjoy the winter sun on the cliff-side with the costal view spread out in front of your eyes.
Fire Place at Panorama Villa and the Luxury Heated Jacuzzi
Ideal for couples, families or a group of friends who desire stress-free holidays, Panorama Villa provides the facility of fireside relaxation, and a luxury out-doors heated Jacuzzi. Enhance the experience of your Christmas holiday by enjoying a hot tub Jacuzzi in the heart of winter, in a super relaxing lighting atmosphere with a bottle of champagne; a private escape from the outside world. You will find real bliss in the hot Jacuzzi where you are strategically placing yourself in front of magic scenery views of Paphos Coast and within a stunning landscape. Then retire to the fireplace in the dry cozy living room of Panorama Villa for having your luxury lunch or dinner.
Keen to escape the coziness of your living room and wonder around to the city of Paphos during Christmas Holidays?
Dress well and find a list of excellent local restaurants with local food that invite customers to spend Christmas Eve or New Year's Eve for an exclusive dining experience. Few kilometers away from the villas is the Peyia Village where you can find traditional Cypriot taverns with rational cuisine or visit Paphos center with various other restaurants, coffee shops and bars with funky music. Take advantage of the Christmas spirit and visit Paphos harbor where Christmas events are taking place with Christmas Carols. Or even combine shopping with good food and coffee at Paphos Avenue Mall in the center of Paphos.
Winter Activities for winter visitors that are seeking adventure
Even though a lot of attractions are close because of the winter season and activities are limited during this time of the year, there are lots of things you could do. Have an adventurous safari trip at Troodos Mountain or Akamas Peninsular for site-seeing of the beautiful beaches of Paphos. Professional organizers of Safaris will pick you up from one point of Paphos and guide you to an amazing trip full of the best views unraveling the history of the island; a unique experience. Spoil yourself after an extreme day at the mountain of Akamas by letting your tour guides suggest you a tavern for having the traditional Cyprus Meze lunch.
Rent ATV motorbikes from a popular shop in Coral Bay few kilometers away from the villas, for experiencing an adventurous trip in Akamas Peninsula.
Enjoy the experience of culture and history or the wild flowers or the majestic sunset at the beautiful beaches of Paphos on a horseback riding! Book your lesson and let the professionals guide you and let yourself free by riding your own horse and take part to a memorable experience.
If you are seeking for a less adventurous experience take advantage of the benefits of visiting Paphos Zoo especially if you have small children or you are a romantic couple seeking to learn, explore and discover the animal life. Make it a perfect day trip destination during your accommodation in winter season.
If you are seeking to escape and need to try something different and experience a romantic Christmas holidays, Panorama and Oceania Villas is the best choice; having lots of facilities and luxuries in a private space with an amazing scenery view.
Comments
comments