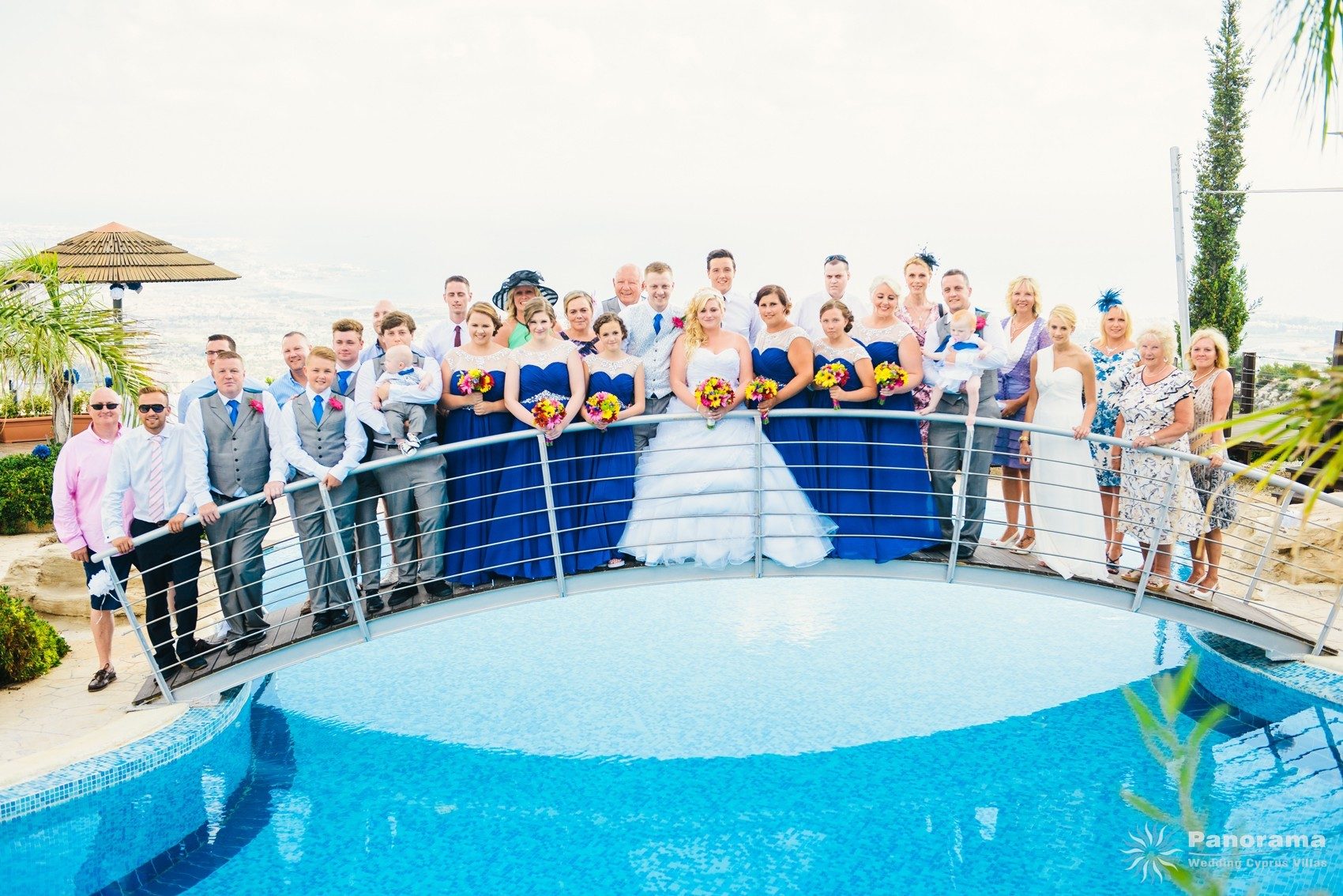 Every couple wants their wedding to be perfect. However finding the perfect band, the perfect caterer, the perfect gown and suit makes you stressed out. So why getting stressed out when you can make your dream wedding a reality, at the same time without being stressed out and enjoying the every last second of your soon to be married hours.
On the other hand planning your holiday can be a headache, because everyone wants to have the perfect holiday for the best price they can get. Want to spend your holiday to the maximum for the best price? That is where we come to help you. We have the best Cyprus villas where you will enjoy every second in it.
The Team at Panorama Weddings Services are locally based and have many years of experience in impeccable wedding planning and flawless execution, are now available to our guests to assist with the process of making your special day individual and exceptional. We will make your ordinary holiday an extraordinary one and make to savour the pre wedding hours without getting stressed out. This will give you a whole new definition to your idea of Cyprus wedding.
Why you should select Panorama Wedding Cyprus Villas?
We know what you don't know
We are the legal owners and it gives us the freedom to give more than you expect. With the vast knowledge of the area we are able to give you the ultimate experience rather than an event or a trip. With the expertise knowledge of planning we know where you have doubts about.
Prices

We provide you a competitive price where you get the maximum benefits for the best price than our competitors. We also have a range of discounts where we provide with the conditions.

Specifically recommended villas for weddings

There is a difference between a holiday and a wedding ceremony. We provide our service according to your need. We have separate two spectacular villas (Wedding villas) recommended for your dream wedding ceremony according to the number of guests you require to host.

Panorama Villa

Giving the freedom to host 60 guests, this wedding villa will make your wedding a memorable one. With its spectacular view this luxurious villa located in Southwest Cyprus, on the edge of the mesmerizing Pikni pine forest in the Paphos-Peyia hills.

Oceania Villa

Hosting 40 guests, this spectacular and individual wedding villa is located in a rural private area, near the pikni-pine forest at the top of peyia hills Paphos Cyprus. With its mind-blowing view will make your special day more romantic and beautiful.

Panorama and Oceania Villa

For an ultimate high standard wedding we recommend you to combine both villas, Panorama and Oceania, thus you can have a bigger wedding reception capacity, accommodating up to 31 guests and maximize the privacy!
The villas combination can sleep up to 31 guests and weddings ceremonies can be accommodated in several areas of the garden, all providing spectacular backdrops, and space for 100 guests in total. Additionally the villas offer the best panoramic coastal views on the whole island.
Customer service

We are not expecting to fulfill our customer needs ordinarily. We want to give our customers a memorable and unbelievable experience which they will be cherished throughout their life. We provide the 24 hour customer service where we help our customers with any issue and we maintain an environment which promotes direct questions and direct replies.

A customer can arrange a meeting for a viewing, according to their preference and convenience and take a tour around the villas. When it comes to a wedding we provide the customer the service to meet the wedding planner and discuss the needs of the couple and fulfill their wishes for their big day.
Value added services
We provide exclusive services in order to add more value to your big day or to your holiday. This includes direct and instant response to any requirement, in-house catering, car services, exclusive wedding packages and many more.

The best service providers to ensure the quality of our service
The wedding planners which we are incorporated are the best in Cyprus. The following services are provided by them.
– The wedding planner will guide you around and discuss with you exclusively to present to you the wedding suppliers / Best suppliers for wedding services (ex-photographer, decoration, catering)
– Fully bonded licences for weddings
– Exclusive packages for low budget to low budget / competitive prices
– Fully customization and tailor maid services
Why bother about your holiday or your wedding when you have us to provide all these facilities? Join with us we will not only fulfill your desires but also give you an unbelievable experience to make your special day a prodigious one which you will reminiscence throughout your entire life.

Comments
comments